Pay it Forward- One Mentor's vision for a better community.
WYN mentor and ASU student, Kevin Diamond, along with his mentee, Rafael, who is a 4th grader and avid cook, decided that they wanted to do something to give back to their community. Thus, the "Pay it Forward" program was born. Pay it Forward was purposed with the philosophy that doing something good for people should in turn create a desire in them to also do something good for others.
Kevin and Rafael decided that their mission would begin with serving a meal to people at the Hospitality House of Boone. After recruiting other mentors and mentees, Kevin and Rafael launched the Pay it Forward program with their first event on Sunday, September 12th.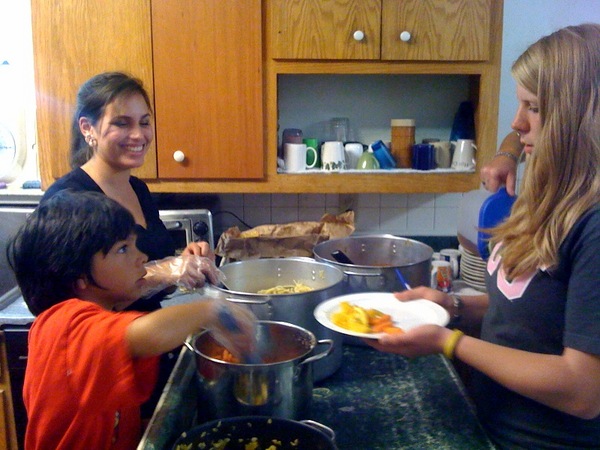 Kevin, Rafael, and other WYN mentors and mentees prepared spaghetti, garlic bread, local squash, and boiled carrots in the WYN kitchen. The group took the meal down to the Hospitality House and served food to the residents. This experience allowed them to help others and share life with new people.
The food that was prepared was donated by WYN mentors, with some of the vegetables grown locally by one of the mentors.
WYN's Mentoring Program provides positive role models to High Country youth. The Pay it Forward program's primary objective is to spread the word about mentoring and help others through volunteering and giving back. WYN looks forward to making the Pay it Forward initiative a monthly event.
Rafael and WYN mentor, Melissa serve food at the Hospitality House.
If you have an interest in participating with this program or other WYN programs please visit our website at www.westernyouthnetwork.org or give us a call at (828)264-5174.
View more photos from the Pay it Forward event by clicking here.
International day of Peace

On Tuesday, September 21st, WYN's After School participants joined the Elkland Art Center and other community members in the International Day of Peace Parade.
For several weeks prior to the event, WYN students worked with ASU art students and volunteers from Elkland Art Center to create peace flags that were carried in recognition of the International Day of Peace.
The International Day of Peace Parade is annual event that is observed by many nations, political groups, military groups, and people across the world. This day is in recognition of peace, or specifically the absence of war. The International Day of Peace was first celebrated in 1981.
View more photos from this year's International Day of Peace Parade by clicking here.